TinyLife Family Support Services have been specially developed to provide emotional and  practical support to parents of premature babies or babies who have spent time on a Neonatal Unit from birth.
We understand the shock and helplessness that parents can feel and our team of Family Support Officers can give emotional and practical support to parents and their families both while your baby is in the NNU and provide a number of support services for at home and in the community when its time for your baby or babies to go home.  Our experienced Family Support Officers will help you get the right support at the right time.
Parents have described these services as being a 'lifeline' and specialist services that we deliver including Baby Massage can help with bonding, attachment and baby's development.
Key services include:
– Breast Pump Loan service (hospital grade electric breast pumps – see request form on Breast Pump Loan page
-FSO weekly NNU visits
-1:1 telephone support and signposting from TinyLife Family Support Officers
-TinyTime Groups
-Baby Massage (International Association of Infant Massage IAIM accredited)
-We also have a number of specialist services and Projects including:
-Volunteer support
-TinyGym (Northern Health and Social Care Trust)
-Positive Minds for Premature Parents project (Southern and Northern Health and Social Care Trust areas)
TinyLife can provide support to the whole family including Dads who can avail of all of the services we provide. It is so important that there is an opportunity for dads as well as mums to find support and can attend any of the groups sessions or receive support on a 1:1 basis from FSOs.  Dads are also equally included in being able to attend the special mental health support offered through Positive Minds for Premature Parents project.
Please complete a Family Support Form if you are eligible and would like to discuss how you can access any of the support offered by TinyLife or if you are a professional who is working with a family eligible for support.
New Affiliate Partnership with Samuel Johnston Prams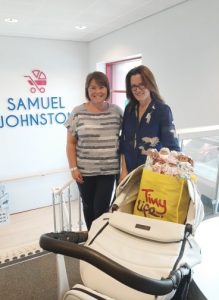 Covid-19 has been particularly tough on the charity sector with many fundraising events cancelled. At TinyLife, we are always keen to hear about innovative ways of raising vital funds. With that in mind we have teamed up with local family business, Samuel Johnston Baby, to become an Affiliate Partner. Simply put this means that every time you choose Samuel Johnston Baby for your baby essentials, a percentage* goes to our charity.   eg: if you purchase a travel system costing £1500 – approx 4% = £60 is donated to TinyLife.