Celebrating Premature Babies during 'Premvember'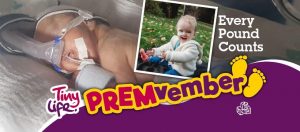 Premvember is TinyLife's month long celebration and awareness raising campaign for premature babies in Northern Ireland.
World Prematurity Day takes place on Thursday 17th November and is a global celebration of all things prematurity.
Throughout the month of November, we will not only raise awareness of premature babies, but we will also share key statistics, interesting facts as well as asking you to get involved by sharing your own experiences or by taking part in one of our many different events and activities.
Each year, over 1,000 babies and their parents benefit from a range of TinyLife services including our breast pump loan service, specialist baby massage classes, parent support groups and child development programmes, which all help to improve physical and cognitive development and offer one-to-one practical and emotional support.
TinyLife are vital in helping premature babies and their families from the neonatal unit and furthermore, in the community. Some babies are born at 23 weeks old and weigh less than 1lb, that is why it is so important to raise awareness on the life of a premature baby, and how we help in a range of different ways.
Local parents Julia and Geoff found out about TinyLife while having daughter, Sophie.  Julia shares her experience to lend support to other families going through a premature birth.
Sophie's mum Julia shares how support from TinyLife has made a huge difference to them:

"As parents, not being able to do anything but sit and watch our daughter go through so much in those early
days was a living nightmare. We felt completely helpless and just wanted our little warrior to be ok. It was during
this time that we were introduced to TinyLife, and since then TinyLife have been there for us every step of our
journey giving us invaluable support. "
Every pound counts for premature babies like little Sophie when they are in the Neonatal Unit and every pound you raise for TinyLife counts in helping us be there to support through our vital services. If you would like to help us continue to support parents like Julia, join us this Premvember and holding your own Premvember fundraising event at home, school or work. You can download our free fundraising pack here:
https://register.enthuse.com/ps/event/Premvember 
You can also attend the 14th World Prematurity Day Virtual Online Conference on  Friday 11th November.
"Prematurity is for Life – not just for NICU"
Check out our social media channels throughout the month of November where each week, we will be focusing on a vital service that TinyLife carry out for premature babies in Northern Ireland, and their families.